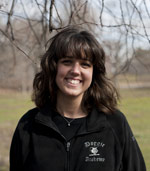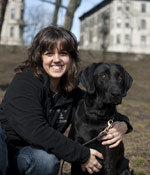 Charleston on the set of "Law & Order"
About Doggie Academy
Sarah Westcott - Head Trainer
Sarah Westcott, CPDT-KSA is the owner of Doggie Academy. As a Certified Professional Dog Trainer-Knowledge and Skills Assessed, she offers obedience training and behavior counseling to New Yorkers and their dogs. In addition to private sessions, she teaches puppy, manners, agility and behavioral group classes.
Certified Professional Dog Trainer-Knowledge and Skills Assessed
Professional Member of the Association of Pet Dog Trainers
Founder of the Brooklyn Dog Training Center
AKC Canine Good Citizen Evaluator
Agility instructor at Camp Gone the the Dogs
Former Trainer and Coordinator for The Good Dog Foundation
Certified in Cat and Dog First Aid by the American Red Cross
Mentor Trainer for CATCH Canine Trainers Academy
Sarah officially launched Doggie Academy in 2007 after working with some of the top trainers in the United States to study the science of how dogs learn as well as how to be an effective teacher to their human compatriots. Sarah is a certified AKC Canine Good Citizen evaluator and founder of the Brooklyn Dog Training Center. She has previously been a Trainer and Coordinator for The Good Dog Foundation, a non-profit organization dedicated to training and certifying dogs for animal assisted therapy.
Sarah has fostered several challenging dogs for rescue groups like the ASPCA including an aggressive Maltese, a petrified Pit Bull and one puppy that was seized by Humane Law Enforcement after being left for dead in an abandoned house. She and her late dog, Charleston, volunteered as a therapy dog team for The Good Dog Foundation. Charleston also appeared in catalogues and an episode of Law & Order.
In 2008 Sarah adopted Hank, a Labrador Retriever from Rescue For Life Labrador Retriever Rescue. Sarah and Hank are currently training in agility together and have recently begun competing together. To see Hank in all his goofy glory, watch the videos on his YouTube channel.
As a full service dog trainer and behavior counselor, Sarah crafts a unique lesson plan for each client based on their needs and goals. She believes that training should be fun for both dog and human and strives to be a positive influence on that relationship.
Contact Sarah Westcott for more information about NYC Dog Training.
---
Cristina Mendonša - Trainer
Cristina Mendonša is a marine mammal trainer at the Wildlife Conservation Society's New York Aquarium. Over the past few years she has learned how to apply her training philosophy to training dogs as well. She has also completed a graduate certificate in Animal Behavior and Conservation at Hunter College. Her adopted pit mix, April, is still young but is well on her way to being a model dog for bully breeds. Cristina is well versed in the science of learning and looks to instill a positive form of communication between you and your dog. She teaches group classes and is available for Walk & Trains, Tutoring and Recess sessions.